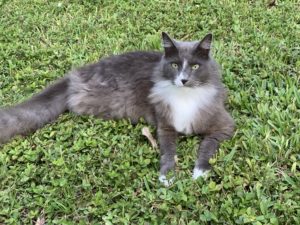 Ghost
Description
Grey and white, large, long haired male cat. He does not like strangers and would most likely act aggressive towards them if they try petting him. However, if he is just being fed, he wouldn't act aggressively.
Breed Info
Species: Cat
Breed: Main Coon
Age: Adult (1 - 7 years)
Gender: Male
Size: Large
Location Last Seen
Ghost was last seen in the Pier Point neighborhood of Lakeland off of 540A.
Contact
Name: Jordan Sizemore
Email: jtsizemore924@gmail.com
Phone: 8639445772
Location: Lakeland