Every time you adopt a pet from the Humane Society of Polk County Inc, you enable us to save the life of another orphaned animal in great need.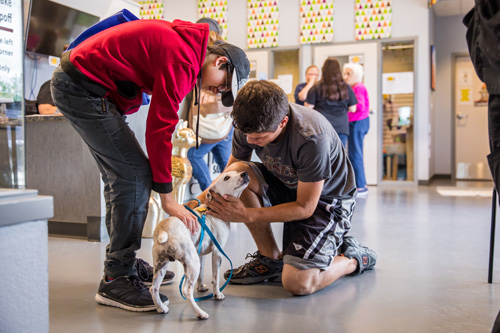 Our Adoption Process 
1: Fall in Love
Stop by our adoption center to find your new best friend. Once you find a dog (dogs are listed in adoption books for you to see, and we will bring them out to meet you and your family) or cat that tugs at your heart, you can visit and see if there is a love connection.
Step 2: Meet with a Counselor
Our well-informed staff will fill you in on the pet's story and answer any questions you may have. These questions will help ensure that your new pet will be a great fit for your family.
Step 3: Complete the Adoption
After you find the dog or cat that best fits your home, you will fill out an adoption contract and receive the pet adoption kit and records.
Please note: Saturdays are our busiest adoption day, so we ask for your patience. You may have to wait 15-30 minutes to visit with a furry friend.
Adoption Fees
Adult Dogs over 30 pounds $150

Adult Dogs under 30 pounds $200
Puppies (all dogs under 1 year) $200
Purebred Dogs $200
Adult Cats $50 (5 years & older)
Kittens up to 1 year $200
Cats under 5 years $150
Seniors for Seniors $30 (Cats) $65 (Dogs)
Seniors (60+) adopting an adult dog or cat 5 years or older
What you'll need to bring:
To make your adoption speedy, please bring the following items with you to the Humane Society:
Picture ID with your current address
Your landlord's telephone number, if you're a renter
Proper form of payment (cash or credit/debit card)
What's included:
Spay/neuter with physical exam
First set of shots (including rabies shot if age appropriate)
Collar, tag, leash/carrier
De-worming
Feline leukemia / AIDS test
Microchip implant with registration