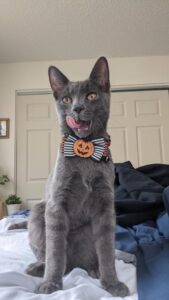 Yuri
Description
Yuri is a gray 6 month old and 7 pound kitten. He is skiddish to loud sounds but will approach if you a kind voice. He will come to you if you're patient and shake some treats or food. It may be helpful to put some food down and then he will approach you when he is ready. He is very scared but really friendly. He is a fast runner and may slip out of hands. He is neutered, has a flea treatments that is good until November 25th, he also has his rabies and vaccines. He also has insurance.
Breed Info
Species: Cat
Breed:
Age: Baby (0 - 5 months)
Gender: Male
Size: Small
Details
This pet has been declawed.

This pet's shots are update-to-date.

This pet is house broken.

This pet has special needs.

This pet has been spayed/neutered.

This pet likes or gets along with cats.

This pet likes or gets along with dogs.

This pet likes or gets along with kids.
Location Last Seen
This is all the information about Yuri. He's a gray, 6mo old kitten, roughly around 7 lbs. He also has yellow eyes. He fell off the edge of Boyd Gap in the Cherokee Forest. We left a bunch of signs in the area and have been contacting local places that are related to the forest, animal rescues, and vets. He is very scared. Firefighters looked for him and didn't find any trace, likely meaning he is hiding and still alive. I left food, water, a sweater with my scent, and a towel at the spot it happened. He is microchipped so if he is scanned it should under last name Fuentes and 3083910656. I will attach a picture of him.
Contact
Name: Theo Fuentes
Email: yamifuentes13@gmail.com
Phone: 3083910656
Location: St. Petersburg