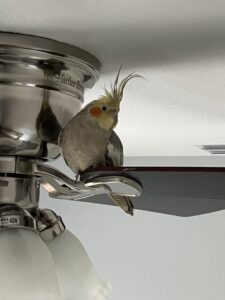 Unknown Name
Description
Tamed and sweet Cockatiel. I believe it's a male. We found him a few days ago in our back yard in Lakeland's Dixieland area neighborhood.
He's been chirping and singing the past two days and has seemed to relax now that he has shelter and food/water.
Breed Info
Species: Other
Breed:
Age: Adult (1 - 7 years)
Gender: Male
Size: Small
Location Last Seen
Lakeland Dixieland area off of W Patterson St. The pet Cockatiel is at my home now safely until we locate the owner.
Contact
Name: Jenna Vaughan
Email: jennacorryn@gmail.com
Phone: 8638122738
Location: Lakeland