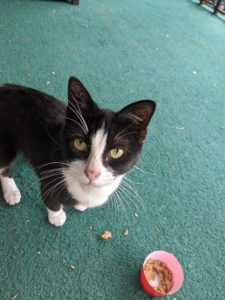 Unknown
Description
This kitty has been wandering around my apartment area. It does not seem to have an owner. I put the picture on my apartment complex dashboard but no one has claimed her it has been 10 days. I noticed that she sleeps under a tree every night. So I have been feeding it and giving it water. She has some wounds that might be due to aggression from other cats.
She is a sweet kitty, I just didn't take her in yet because I am not completely sure she doesn't have an owner, and what is her health condition. She really wants to come inside.
I never adopted an animal before, so I am not so sure how to handle this situation.
Breed Info
Species: Cat
Breed:
Age: Young (6 months - 1 year)
Gender: Female
Size: Small
Location Last Seen
Briarcrest Apartments, Avenue K SE, around small pool area.
Contact
Name: Camila Ribeiro
Email: cams.ribeiro@gmail.com
Phone: (352)328-7088
Location: Winter Haven