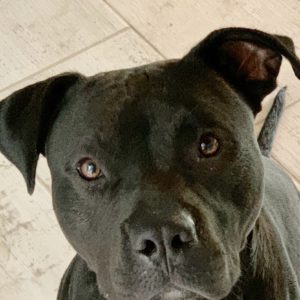 Unknown
Description
Approximately 45-55 pounds, black pit mix. He is very friendly and very well-tempered. He is friendly with my dog; they are enjoying playing together at my house. He knows how to sit. I took him to the Cleveland Heights Animal Clinic for a scan, and they found no microchip. He has no collar or any other form of ID. He is not neutered, but he appears in generally good health (other than being hungry). He has a couple of sores/scabs on him, possibly a rash or ringworm. I will be happy to reunite him with his owner if they can tell me some of his other unique identifying characteristics. I am afraid to take him to Polk Co. Animal Control right away for fear they may put him down because he looks to be a pit mix. If we can't find the owner, I would like for him to be considered for adoption by the Polk Co. Humane Society or the SPCA because he is so friendly and sweet.
Breed Info
Species: Dog
Breed: Pit mix?
Age: Young (6 months - 1 year)
Gender: Male
Size: Medium
Details
This pet has been declawed.

This pet's shots are update-to-date.

This pet is house broken.

This pet has special needs.

This pet has been spayed/neutered.

This pet likes or gets along with cats.

This pet likes or gets along with dogs.

This pet likes or gets along with kids.
Location Last Seen
I found this dog at approximately 8:00am on Thursday, February 28, 2019 wandering in front of Lake Hunter near the Presbyterian Homes (Lakeland). He readily followed us home with a little coaxing with treats.
Contact
Name: Ed Gabe
Email: edgabe@gmail.com
Phone: 8593127282
Location: lakeland