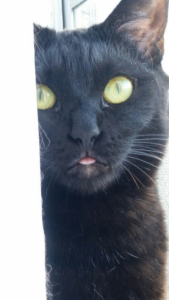 Tabitha (Or "Pretty Kitty Baby" for long…) – Rehoming Pet
Description
Tabitha is one of the sweetest cats I've ever personally owned! She loves to have her face rubbed to death, and she's typically super eager to greet you at the door upon your return! She's about 4 years old, exact birthdate unknown, and she's a little chonk, so it's recommended that you regulate her diet so as not to overfeed her because if there's cat food, She'll eat it! She can be a bit of a nuisance, as cats typically are, by doing your general destructive "jumping up on things and knocking things off" kind of behavior, which is an issue for me but I'm sure won't be an issue with someone else as this is pretty bog-standard cat behavior. She loves catnip and dangly rod toys, but she would probably prefer to remain cat-companionless and on the ground. She's not a massive fan of being held, although she will tolerate it (decently audibly) for no longer than about 30 seconds. (Also, if you really wanna get her revved up for petting, she loves being referred to as any combo of the words "Pretty Kitty Baby")
TL;DR, Tabatha is an amazing cat who just needs someone who's willing to dedicate a large majority of their love to this sweet little Pretty Kitty. She can be a bit territorial, which is why she'd probably be better off alone, although she's lived with my other cat for about 2.5 years now, so she's not unable to live with another cat, just not thrilled. She's a Fatso, so diet regulation is key with her, and she needs lots and lots and lots of attention!
Oh, and one more thing to note about Tabitha: SHE MAY NOT UNDER ANY CIRCUMSTANCES GO OUTSIDE!! She has always been an indoor kitty for her entire life, so throwing her outside would be throwing her into the wild with none of the necessary skills to survive on her own. She most likely wouldn't last a week, especially with how excessively trusting she is. PLEASE make this a top, top, tippy-top priority when deciding whether you will be taking in Tabatha.
Breed Info
Species: Cat
Breed: Pure Black
Age: Adult (1 - 7 years)
Gender: Female
Size: Medium
Details
This pet has been declawed.

This pet's shots are update-to-date.

This pet is house broken.

This pet has special needs.

This pet has been spayed/neutered.

This pet likes or gets along with cats.

This pet likes or gets along with dogs.

This pet likes or gets along with kids.
Contact
Name: Mason Little
Email: sonofmace159@gmail.com
Phone: 5054589340
Location: Lakeland