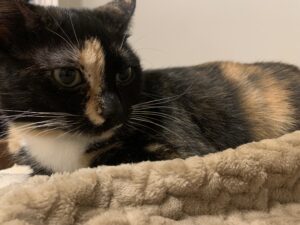 Small Kitty – Rehoming Pet
Description
Small Kitty is the most adorable cat ever! With this name, she's definitely not small anymore! Small kitty is very loving and wants to be petted when she's sleepy, but when she's active, she wants to play around and look through the window and run as much as she can. She loves to roll on the floor and is very goofy and funny. The most beautiful girl ever with black, white, and orange hair.
Breed Info
Species: Cat
Breed: Domestic short haired
Age: Adult (1 - 7 years)
Gender: Female
Size: Large
Location Last Seen
This pet has been spayed/ neutered She's still in my home.
Contact
Name: Noor Algoul
Email: nooralgoulk@hotmail.com
Phone: 8138209661
Location: Lakeland