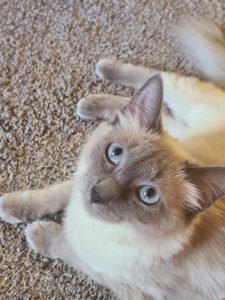 Skye – Rehoming Pet
Description
NOT for new time pet owners. Skye is for those with a lot more experience and patience with cats.
Indoor cat only. Has never been outside. (Might not come back if she did).
Skye is a very shy cat, easily skittish and hides often. But despite that, she is very sweet towards humans once she gets used to them. Does not like to be held/picked up for very long, and will scratch when she's had enough.
Doing her nails is a nightmare.
The reason we're giving her away is.. She is aggressive with kittens.
I had a foster in a few weeks back, she cornered her. Growling and hissing, maybe even swatting at (didn't see) till the kitten had pooped herself and got it everywhere in an attempt to get away.
We have a 10 week old kitten as well, and since the Foster baby had returned to the spca, Skye has since started targeting our little one. She has become aggressive with her, and the last straw was her actually injuring our kitten. Had attacked her when she least expected it, and it ended with the baby getting her inner eyelid scratched, that which she is still recovering from.
We raised her from a kitten with her brother (whom we are keeping) and she gets along with the other animals we have. (2 other adult cats, and 1 small dog). But we just can't have a cat who is going to attack our kitten or any kittens I bring home to foster while our backs are turned. So as much as we don't want to.. It would be best to find her a home she can be spoiled in without kittens or children. (No experience with large dogs)
Breed Info
Species: Cat
Breed: Balinese mix
Age: Young (6 months - 1 year)
Gender: Female
Size: Small
Details
This pet has been declawed.

This pet's shots are update-to-date.

This pet is house broken.

This pet has special needs.

This pet has been spayed/neutered.

This pet likes or gets along with cats.

This pet likes or gets along with dogs.

This pet likes or gets along with kids.
Location Last Seen
My house. :p
Contact
Name: Kayla Tindell
Email: kayla.walker1113@gmail.com
Phone: 8638520621
Location: Lakeland