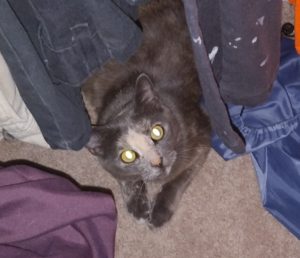 Silvia/Silver – Rehoming Pet
Description
Pet's Name (responds to): Silvia or Silver
Age: Adult. (Unsure of actual age)
Sex: Female (fixed, can't have kittens)
Breed: Mix
Coloring: Off color of a usual calico.
(Blue gray, light gray, orange, white)
Personality: Very sweet, loving, gets along with others as long as the others are good with other animals too. Not big on being picked up and held, but will come to you and just roll on her back for belly rubs (which she loves). Can be very playful. Prefers to be an outside cat, but comes inside especially to be fed. She is a big eater. She'd keep eating if you let her. She loves food.
Silvia was found skin, bones, and fur. She had been starved for quite a while. She was starving enough to eat two full hotdogs and still wanted more. Found her on a friend's porch one night, she was a bit skittish at first then quickly warmed up to us (my friend and I whom found her there). No one could take her, so she came under mine and my fiance's wing, and she's become such a different cat than what she started out to be. We NEED to find a permanent home for her. Unfortunately, we can't keep her. We will need to move to an apartment and they only allow 2 per, we have 4.
She isn't big on large dogs, but seems just fine with my small jack russell. I'm not sure how she is with children, it's the same for any animal that isn't used to someone or a new place. I'm sure she'd be nervous with any situation. She doesn't much care for being crowded or stuck in small spaces, and her favorite place to sleep is a cat tree we have.
We need to find her a loving home as soon as we can. If you're interested, please contact me. (:
Breed Info
Species: Cat
Breed: Calico (unsure what her true calling is)
Age: Adult (1 - 7 years)
Gender: Female
Size: Medium
Details
This pet has been declawed.

This pet's shots are update-to-date.

This pet is house broken.

This pet has special needs.

This pet has been spayed/neutered.

This pet likes or gets along with cats.

This pet likes or gets along with dogs.

This pet likes or gets along with kids.
Location Last Seen
She isn't a stray, Silvia is an inside/outside kinda gal. Last seen? Right in front of me in one of her hidey holes within oir closet. ;p
Contact
Name: Kayla Walker
Email: kayla.walker1113@gmail.com
Phone: 8638520621
Location: Davenport