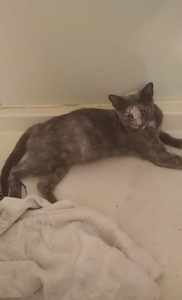 Silver-Belle – Rehoming Pet
Description
She is a very off-colored calico. As I've found out, she appears to be a Blue Russian Calico, or close to it.
Silver is a very sweet, people loving feline. She is very laid back, calm, and most days/nights, she's just sleeping. I'm not quite sure on her age, but by her behavior and coat, I feel like she could be a much older cat. She does not play much with my two other cats, and they are always playing. She eats well, isn't too picky. Litter box trained. Best to be an indoor cat. Not sure how she is with children, or dogs. Like any scared animal, it takes them time to settle in.
She has had kittens before, and is not fixed.
Found her outside of a friend's place, super skinny and starving. Ate two whole hot dogs as if she hadn't eaten in a while, and I'd assume she probably hadn't. Took her in, but I can't keep her. I need to find a home for her ASAP. My mother is wanting to drop her back off at the place my friend and I found her, or take her to a kill shelter. I won't do that.
Please, if you or someone you know would be willing to take her in, text me by my number or email me. Thank you.
Breed Info
Species: Cat
Breed: Blue Russian Calio
Age: Adult (1 - 7 years)
Gender: Female
Size: Medium
Details
This pet has been declawed.

This pet's shots are update-to-date.

This pet is house broken.

This pet has special needs.

This pet has been spayed/neutered.

This pet likes or gets along with cats.

This pet likes or gets along with dogs.

This pet likes or gets along with kids.
Location Last Seen
Outside a friend's home. She was skinny and starving, took her home with me.
Contact
Name: Kayla Walker
Email: kayla.walker1113@gmail.com
Phone: 863-852-0879
Location: Davenport