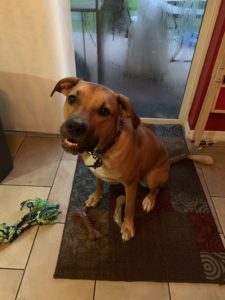 Rosco – Rehoming Pet
Description
Rosco is a sweet 1 year old mix. He weighs about 75lbs. He is crate trained. He is very energetic and needs a large yard to run in. I don't recommend leaving him outside unattended for long because he likes to dig holes. He can sit, lay down, and stays when told. He is excellent and safe with children and cats (though he loves to play with our cat Buddy, he is a bit rough so Buddy doesn't desire to play. He isn't socialized with other dogs so he would need to be and I am sure he would get along great and play. Rosco is a lover not a fighter. Rosco still has to learn not to jump on you when excited but he has gotten much better. He isn't a barker so its pleasant to have a dog that is quiet and not a barker or whiner, especially for his size. He loves to play tug of war and loves soccer balls. He has a delicate stomach so I only recommend one type of food and no treats or raw hide. He tends to have skin sensitivities so again, no changing foods or giving him treats. He is a big baby and doesn't know his own strength or size, especially when he tries to sit on your lap. He isn't a fan of water but he takes bathes very quietly and still. I don't recommend any bed in his crate because he has torn up every bed imaginable. I also don't recommend any stuffed toys because he tears them up very quickly. Rosco needs a family or owner that will take him for walks and play with him and socialize him with other dogs, maybe get him a best friend. Take him for car rides and just give him the attention he deserves. He is a very loyal dog.
Breed Info
Species: Dog
Breed: Mix
Age: Young (6 months - 1 year)
Gender: Male
Size: Large
Details
This pet has been declawed.

This pet's shots are update-to-date.

This pet is house broken.

This pet has special needs.

This pet has been spayed/neutered.

This pet likes or gets along with cats.

This pet likes or gets along with dogs.

This pet likes or gets along with kids.
Location Last Seen
Banfield pet hospital
Contact
Name: Vanessa Perez
Email: vperez1029@gmail.com
Phone: 3059262065
Location: Winter haven