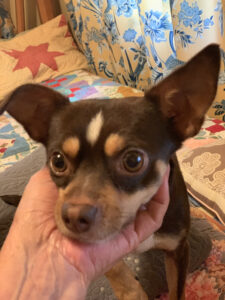 Ricky nicknames, RickyBoBikki, or Bobikki – Rehoming Pet
Description
I sing to Ricky and the lyrics may change daily……but here is the rhythm and basic song from The Name Game…you may remember it…"Ricky Ricky Bo Bikki…banana fanna fo dana…Fe fi fo mana….Ricky" He tries to talk …and then it becomes sort of songish….so i make my voice higher and say want a cookie Ricky…sit…then i sing, in a high voice love you.. i do it a few times..and tell him to say it. say love you Ricky…..say love you. " he will too. on certain days he gets down and sits by my chair and says love you which means please give me a cookie…and it works for him he get a dog bone "cookie". He is a fierce protector…he warns you with a growl…and then gets in a barking stance…..if he thinks he needs too. he does it the other night he protected a bone i put in his crate by moving it and growling…when the door was closed and it was dark in the room. He did it more than once in a soft voice….until i said its ok Ricky. He just seemsed to be saying I'm telling you this is mine. . I've never seen him bite or even attempt to really but he sure loves to tell his feelings. His favorite place to be is beside you….snuggled into your leg…on your lap…just very close. He can easily jump from the floor onto your chair or sofa ..and even most recently he high jumped onto my high bed. lol. He loves to eat people food and will sit and stare at you if you let him…i have a water bottle with a blue spray head..that i lift and say see this…and he goes away when he needs to give me my space. He does not pull at all when on a leash…he does go from side to side and isn't trained to just say beside me there. He weighs 11 pounds..he can easily walk up my body and stare into my face and want to kiss me. I don't kiss his lips but do kiss his head and neck or back. Maybe my favorite thing about about him is that he moans in pleasure…when i hold him close to my heart which is sideways across me…or just at random times when i hug him. I love Ricky and will miss his little feisty talking self…i have a loss of sight in one eye…and a huge change in balance due to four breaks in my arm…from wrist to fingers. oh…and need I say i have the regular old age symptoms…which include singing when i can't…and numerous things my children and grandchildren have done. It is…just that i don't want to fall and hurt either of us.
Breed Info
Species: Dog
Breed: chihuahua brown with gold and white marking....perhaps mix.
Age: Adult (1 - 7 years)
Gender: Male
Size: Small
Details
This pet has been declawed.

This pet's shots are update-to-date.

This pet is house broken.

This pet has special needs.

This pet has been spayed/neutered.

This pet likes or gets along with cats.

This pet likes or gets along with dogs.

This pet likes or gets along with kids.
Contact
Name: Alice J. Turner
Email: Lillyroserain@yahoo.com
Phone: 863-514-6234
Location: Winter Haven