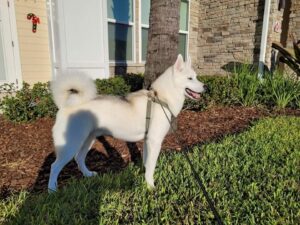 Ragnar – Rehoming Pet
Description
Ragnar is a beautiful husky. He gets along with other dogs and is very clingy. He likes to be the shadow of you, he will follow you everywhere. Likes to run, walks and play. Has energy but not the common husky high speed. He's more calm, he gets his moment of energy plays and then he will sleep for hours. He's house broken, he goes to the front door and patio door and touches with he's nose. He obeys commands. He eats salmon and grain. He's stomach is sensitive to chicken and red meat. He likes to do that famous husky talk. He barks if he doesn't know the person, he will alert you, no aggressive behavior neither with humans or dogs. He likes chewing toys. When he plays with other dogs is the normal behavior of husky with there mouth open. He grow up with a older husky, he is use to have another dog be the Alpha. He is very lovable with kids. He is playful if you want a dog that will have the speedy and chasing the ball and tugging pull war he will be a great addition to the family.
Breed Info
Species: Dog
Breed: Husky
Age: Adult (1 - 7 years)
Gender: Male
Size: Large
Details
This pet has been declawed.

This pet's shots are update-to-date.

This pet is house broken.

This pet has special needs.

This pet has been spayed/neutered.

This pet likes or gets along with cats.

This pet likes or gets along with dogs.

This pet likes or gets along with kids.
Contact
Name: Alejandro Porcuna
Email: alejandro_porcuna@yahoo.com
Phone: 9857745482
Location: Davenport