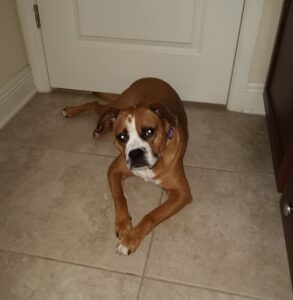 Queenie Bellatrix (Queenie B) – Rehoming Pet
Description
Queenie is mostly a tan brown color with a white snout, and a touch of black hemming her ears. She was found in a McDonald's parking lot as a puppy and was skin and bones. Since I found her she has been housebroken, she hasn't had the opportunity to live and play with smaller dogs and large dogs. She has a high energy dog. She loves to run. She enjoys sunbathing in the grass. She loves stuffed animals but mostly just to tear them apart. She enjoys chasing tennis balls, basketballs, and anything else that rolls really. She is a cuddler in her downtime. And enjoys table scraps every once in awhile. She will be your shadow. She is protective of her owners so she won't leave your side once she gets used to you. She does not like to share her food with other dogs and she is a drooler. She does get rewarded with treats. She is housebroken and as long as she gets the opportunity to have outside time she is a great inside dog. She does come with her own crate but she does not live in it or even sleep in it. She can be trusted outside of the crate while no one is home. The crate is used very rarely and it is mostly for travel. She comes with a few toys a harness and Leash. Sadly the reason why I am looking to re-home her is because I am homeless and currently sleeping in my car and I don't believe that that is a good quality of life for this dog. I don't know when I'm going to get on my feet but I hope to find her a steady and loving home that will give her what she needs in the meantime. Please contact me if you're interested.
Breed Info
Species: Dog
Breed: Boxer/Pit Mix
Age: Adult (1 - 7 years)
Gender: Female
Size: Large
Details
This pet has been declawed.

This pet's shots are update-to-date.

This pet is house broken.

This pet has special needs.

This pet has been spayed/neutered.

This pet likes or gets along with cats.

This pet likes or gets along with dogs.

This pet likes or gets along with kids.
Contact
Name: ALEXANDRA WILLIAMS
Email: acw990@gmail.com
Phone: 8632121535
Location: Winter Haven