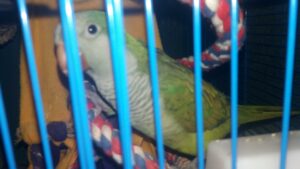 Quacker
Description
He is a green Quaker. My baby have had since a couple days old he is 3. Says ok,peekaboo, what , kisses. And say F you his favorite word. Says Quack tard tard too. Is scared of everything will bite. Has had broken foot before was attacked by a cat.
Breed Info
Species: Other
Breed: Quaker
Age: Adult (1 - 7 years)
Gender: Male
Size: Small
Location Last Seen
Was last seen in Jan Phil / Spirit Lake Rd area Monday evening. Heard him atuesday morning found what tree but would not come had to go to work. Was already late.
Contact
Name: Jennifer Evans Kenneth Lolwing
Email: kensdoll317@gmail.com
Phone: 8634015057
Location: Winter Haven