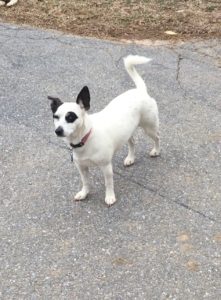 Presley
Description
Presley is a beloved female pet who is all white, with the exception of her black, pointy ears and eye. She's very friendly, even though she does bark at strangers (as she backs away from them). Nearly three years ago, she was abandoned in a crate at our church on a Wednesday night; that's when our home became hers. The vet estimated her age at the time as being less than one year old. Presley was already house-trained, and she is very intelligent. Our daughter can do practically anything with her, including dance. Presley loves playing outdoors with our other two dogs but usually scratches on the door at night when it's her bedtime. Recently, a family member was in the hospital which led to Presley sleeping outside more often. Though she was treated and bathed frequently, we noticed a lot ticks which I began removing. Presley was last seen three weeks ago on a Saturday night next door when she was given a treat. She was the only one of our three dogs present at the time. When we called for her to come in, she never came.
Breed Info
Species: Dog
Breed: Possibly Jack Russell Terrier
Age: Adult (1 - 7 years)
Gender: Female
Size: Small
Details
This pet has been declawed.

This pet's shots are update-to-date.

This pet is house broken.

This pet has special needs.

This pet has been spayed/neutered.

This pet likes or gets along with cats.

This pet likes or gets along with dogs.

This pet likes or gets along with kids.
Location Last Seen
Last seen around the Hightower Falls area in Cedartown, GA.
Contact
Name: Chesley (Trey) Chambers
Email: chambersfab@gmail.com
Phone: 770-324-0980
Location: Cedartown