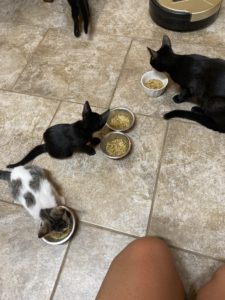 Porch Panther and Babies – Rehoming Pet
Description
Porch Panther came to us one morning after a storm. She is all black, I believe less than a year old and a lovebug. I think she may have been shot in her hind end with a BB gun- so upsetting but it doesn't stop her from being an amazing kitty! She will lay on you and nearly melt onto you like butter! She loves attention! After a few days I noticed she was pregnant and since she stuck around outside until she was ready to have her kittens, I brought her into my laundry room to have them safely. I cannot keep her because I have parrots and because she lived outside for who knows how long, she thinks they're treats. The kittens were born on June 7th and I have two daughters left. The all black kitten we call Evangeline and she is a bit on the shy side but once she warms up to you, she loves to cuddle. The white/spotted/striped gal we call Ophelia. She's a bit on the goofier side and loves to play but loves to be held! I'd love for the kittens to go to a good home together. It'd be amazing if all three could stay together! But, I understand that's not how it always works!
They are being fed a mixture of Science Diet and Purina One kitten.
Breed Info
Species: Cat
Breed:
Age: Baby (0 - 5 months)
Gender: Female
Size: Small
Details
This pet has been declawed.

This pet's shots are update-to-date.

This pet is house broken.

This pet has special needs.

This pet has been spayed/neutered.

This pet likes or gets along with cats.

This pet likes or gets along with dogs.

This pet likes or gets along with kids.
Contact
Name: Alyson Kufrovich
Email: alycolette@gmail.com
Phone: 8632899280
Location: Winter Haven