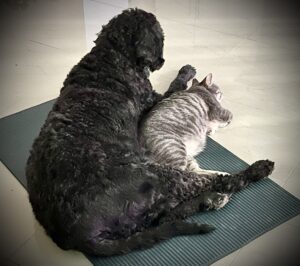 P. Ditty Kitty (a.k.a. Ditty)- Rehoming Pet
Description
P. Ditty is either a cuddle bug or a zoomie kit. He loves to snuggle in your lap or chase bouncy balls and string. He does not like being alone, and loves attention. He loves dogs (friendly dogs are his best buds/see picture) and people, but tends to play too rough with other cats. He is a lot like a dog, and may have been raised with dogs, as he definitely prefers them.
He was rescued 2 years ago, after being abandoned by some neighbors who moved out. He is an absolutely wonderful cat, but our other cats are elderly, and 2 have developed health issues that make them frail and prone to injury (even from play fighting). I am also totally and permanently disabled and just don't have the time and energy now to care for 2 sick kitties (who require subcutaneous fluids and help feeding) and the Ditty Kitty.
Ditty is 100% litter trained, scratching post trained, and lives indoors only (with access to a catio). He takes a little while to warm up to people, but once he does, he is a loyal friend for life. He would be best for someone who has a lonely cat-friendly dog that needs a buddy to keep them company, or someone who is frequently home. He does get frightened during storms, after having lived outside during extreme weather, and will run to you for snuggles when it's stormy out.
I really can't say enough about what a loveable lap chonk he is, and our family loves him to bits. We'd love to keep him, but our older kitties have special needs, and Ditty Kitty needs more attention than we can give him since our older cats now require so much time and energy.
Breed Info
Species: Cat
Breed: Gray Tabby (but thinks he's a lap dog)
Age: Adult (1 - 7 years)
Gender: Male
Size: Large
Details
This pet has been declawed.

This pet's shots are update-to-date.

This pet is house broken.

This pet has special needs.

This pet has been spayed/neutered.

This pet likes or gets along with cats.

This pet likes or gets along with dogs.

This pet likes or gets along with kids.
Location Last Seen
Last seen lounging, belly-up and purring like a motor boat, on the couch.
Contact
Name: Carol Coleman
Email: carol.childers@gmail.com
Phone: 816-982-2154
Location: Lakeland