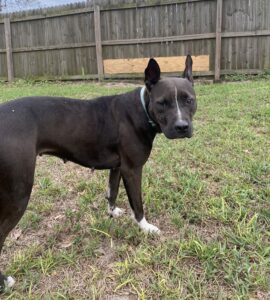 Nipsey – Rehoming Pet
Description
Nipsey is most likely around 1-2 years old she is a small pit bull and has been very timid since we found her. She has shown aggression towards other dogs but we believe she came from an abusive situation and is understandably scared. Would not recommend for home with small children just in case. Can be sweet needs time to warm up.
Breed Info
Species: Dog
Breed: Pit Bull or mix
Age: Young (6 months - 1 year)
Gender: Female
Size: Small
Location Last Seen
We have her at home.
Contact
Name: Taylor Williamon
Email: taylorwilliamon@aol.com
Phone: 8633076875
Location: Winter haven