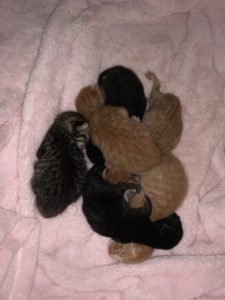 Newborn Kittens – Rehoming Pet
Description
6 kittens, born 2/18/21, free to good homes! They won't be able to leave their mother until they're weaned, at about 6 six weeks old. 3 orange tabbies, 2 black, and 1 brown/black tabby. For more info feel free to text me!
Breed Info
Species: Cat
Breed: Domestic mixed
Age: Baby (0 - 5 months)
Gender: Female
Size: Small
Location Last Seen
Mama cat lives with me, indoor/outdoor.
Contact
Name: Dani D
Email: danielle.deel@gmail.com
Phone: 7062480100
Location: Winter haven