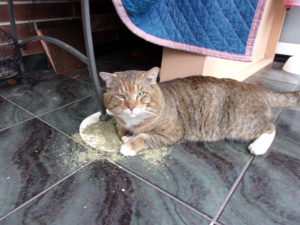 Mr. Kitty / Mooch
Description
$Reward$ for live safe uninjured return :
Description : his color is a brownish tan tabby or brendal with dark brown or black colored stipes & some spots. he has a little white on his face around his mouth & on his chin that stops on the upper part of his neck. all four feet are white & on his hind legs it extends up to the knee joint. he has a white diamond shaped pattern that starts on his lower chest underneath & runs down to his belly.
the belly is a trap if displayed, rub at the risk of being scratched, LOL. his tail is the brownish tan until about six inches from the tip. then there are about four black rings on his tail & it ends with a one inch white tip. his eyes are a light green in color. one ear is crooked & leans over a bit from territorial disputes with other cats in the neighborhood.
Breed Info
Species: Cat
Breed: American short hair or tabby
Age: Senior (7+ years)
Gender: Male
Size: Medium
Location Last Seen
Lost cat possibly dropped off as abandoned rescue stray. South West Lakeland area. last seen in the vicinity of cross streets Bonnybrook Drive South & Fernbrook Lane at 9:42 PM on 07/18/20. but could have been dumped by person trapping him, in a neighborhood miles away from us, if they didn't want to deal with animal control or a rescue shelter, since both ask for personal information to drop off an animal. or person could have told shelter he was theirs & that they couldn't care for him any more & actually filled out paper work.
Contact
Name: Charles McFadden Jr
Email: cfmcfaddenjr@yahoo.com
Phone: 18636193717
Location: Lakeland