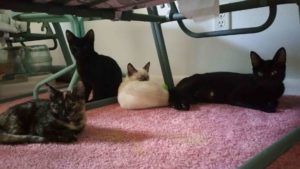 Mama Kitty and Torti Kitten – Rehoming Pet
Description
The Momma Kitty showed up in our yard starving. We believe she was abandoned in our neighborhood. We fed her and the next day she brought 3 kittens. We have been able to get them inside the house, but cannot keep as we have a very full house. They have been taken to the vet and received vaccinations and are both very healthy. The Momma Kitty is around 9 months, very sweet and gentle, loves to be petted and kissed. She is very mellow and relaxed cat. Cali, her Torti Kitten (16 wks – Female) has the same type of personality and loves to cuddle in your lap. Both are new to living inside, but have really taken to it and are enjoying it.
Please note that THE BLACK AND and SIAMESE Kittens HAVE BEEN ADOPTED.
Breed Info
Species: Cat
Breed: Black Cat and Torti Kitten
Age: Young (6 months - 1 year)
Gender: Female
Size: Small
Details
This pet has been declawed.

This pet's shots are update-to-date.

This pet is house broken.

This pet has special needs.

This pet has been spayed/neutered.

This pet likes or gets along with cats.

This pet likes or gets along with dogs.

This pet likes or gets along with kids.
Contact
Name: Catherine Madison
Email: catmad62@aol.com
Phone: 863-602-3922
Location: Auburndale