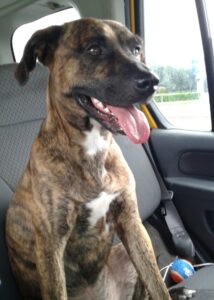 Malachi
Description
Malachi is a neutered medium sized brindle black mouth cur dog. He has a little patch of white hair under is neck and a white star in the center of his chest. He is a little timid, but can be easily bribed with a treat or a friendly soul. He likes people but also like to play. He is friendly to humans and most all dogs.
Breed Info
Species: Dog
Breed: Black mouth cur
Age: Adult (1 - 7 years)
Gender: Male
Size: Medium
Details
This pet has been declawed.

This pet's shots are update-to-date.

This pet is house broken.

This pet has special needs.

This pet has been spayed/neutered.

This pet likes or gets along with cats.

This pet likes or gets along with dogs.

This pet likes or gets along with kids.
Location Last Seen
Malachi was last seen on S. Dossey Road and W. Pipkin Road in south Lakeland. He was staying at this location with my mother temporarily and during the day he was left outside and put up in a shed at nighttime. Malachi was not used to being kept outside ever and would stay outside only if someone was out there with him or if he wanted to bask in the sun. However, being left outside for long periods of time was not something he was used to or enjoyed doing and would usually let you know by barking or scratching at the door. On April 15th my mother last saw him in the back yard before leaving to go out to dinner. Because it was still light outside, she kept him out not wanting to put him up too early. But she also closed the shed door because she was not going to be home leaving Malachi no where to rest comfortably. Whe she returned home from dinner several hours later Malachi was no where to be found and could have easily gotten out of several different weak spots in the fence. Because he was not really familiar with the area, we have no idea what direction he may have went after leaving the yard. If you have any information on the whereabouts of Malachi please let me know!!...Thank you.
Contact
Name: Megan Odom
Email: regmeg1118@gmail.com
Phone: 8632884727
Location: Lakeland