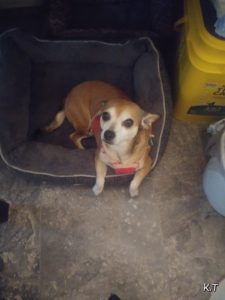 Maisy – Rehoming pet
Description
Maisy is a mix between a Chihuahua and what we believe to be Corgi. She is a sandy tan color, with black and some other light colors mixed in. We are unsure of her age, she is an adult but believe she is close to senior age. She definitely has some grey hairs all around her face and muzzle. She is not fixed. We took her in after she ran away from our neighbor's house, and learned that Maisy had been dropped off at a gas station for two days and appeared to have just had puppies before being abandoned.
Maisy is not really house trained. My fiance and I have tried every which way to train her to go outside but she continues with the bad habit she has to mark places in the house and poop wherever she pleases despite our attempts. She is a rebellious, stubborn little dog. But she is the most sweetest dog I have ever come across. She loves people, and once she bonds to someone she becomes very protective. Maisy has a bad habit to chase things, cats included. But if taught not to, especially by the cat, she won't do it. So she goes after squirrels instead. She is good with other dogs once she gets used to them, and her surroundings and also pretty good with kids. With any animal, they require their space, so she does give warning once she has had enough. I hope whoever takes her never blames her for telling someone what she does and doesn't want. As for food, Maisy isn't too picky. If you leave some food down, she will eventually eat it. Only small bites, she has a difficult time with regular bite size hard food. Not picky with wet food. She works best on a harness, as she will try and escape anything else. Since having her, she tries to bolt to the neighbor's and succeeded once. We are unsure as to why, despite the story they gave us.
Reason for giving her up is we have a lot of animals and we are currently trying to move out of a very bad situation with my parents. Too many animals makes it very hard to move anywhere they will be all allowed in. Maisy is NOT for a beginner pet owner, especially not a child. She is a huge handful and needs someone who will love her, but know how to handle her too. She is a huge lap dog, and also gives hugs. It is the sweetest thing ever.
If you are interested in Maisy, please text or email me. I do not prefer calls.
Breed Info
Species: Dog
Breed: Mix
Age: Adult (1 - 7 years)
Gender: Female
Size: Small
Details
This pet has been declawed.

This pet's shots are update-to-date.

This pet is house broken.

This pet has special needs.

This pet has been spayed/neutered.

This pet likes or gets along with cats.

This pet likes or gets along with dogs.

This pet likes or gets along with kids.
Contact
Name: Kayla Walker
Email: kayla.walker1113@gmail.com
Phone: 8638520621
Location: Davenport