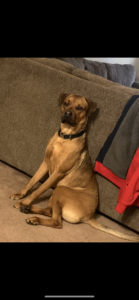 Lincoln – Rehoming Pet
Description
Lincoln is a smart, loyal, and protective copper colored boxer/lab mix. He loves playing outside, digging in the dirt and going on adventures. He can sit, lay down, shake your hand with both his paws, and he can speak when asked. I had a friend that found him as a stray and was going to take him to the pound because he showed some signs of aggression. When I met Lincoln I could tell he was scared.. I could tell he had an abusive past. I knew if he went to the pound it would be even more traumatizing and that behavior could potentially result in him being euthanized. I decided to take him and give him a chance. I thought if I gave him a safe place with a big back yard and plenty of love he would be just fine. He and I grew close and he has been my best friend over the last couple of years. He is very playful, he loves to play tug a war and he loves when you sit outside & watch him play. Some things to know about Lincoln.. He doesn't like when a lot of people are around, it makes him anxious so when people are around I just put him in the back yard. He likes to play rough and he gets a little rowdy sometimes. Lincoln loves being in the outdoors. He loves camping, and getting dirty. He is a sweet dog, he's loyal, and he is very protective. He is not very affectionate though.. he's never liked to cuddle, he is perfectly content with a couple of pats on the head. He is potty trained and stays in the house for up to 10 hours a day while I work with no problem. I have recently built him a little dog house outside because he honestly prefers the outdoors . He loves to eat, he is always hungry.. every-time you feed him you'll think he is being starved. He is also a picky eater..he'll eat regular dog food if he gets hungry enough but I mix wet food in with his dry dog food usually. Also he does not like to be messed with when he is eating..I have tried lots of different things to break him of that in appropriate behavior while he's eating but I have just learned put him in an area where no one is around. He'll eat and then he'll be fine. He has a very unique personality.. While I love him very much, I also know he deserves better then what I can give him at this time. I am a social worker and I work all the time.. & I'm honestly not much of an outdoors person.. I have noticed him putting on weight and kind of just laying around recently and that breaks my heart.. I know he would be much happier with an older man that wants company while fishing or hunting ..or younger single man with a lot of energy and time to play with him.. Or even a woman that loves to be outside and can handle the rough housing & lack of affection. He hasn't had a lot of exposure to children so I would be careful with that. I wish I could keep him here but I just don't think I can provide the right environment for him to thrive in. I just don't feel like I am equipped to deal with his needs at this time. I think he needs more land to roam and be adventurous. I'm getting married and am taking care of my 6 year old niece and slowly my home is becoming more full and he is not adjusting well.. This is not a decision I have made lightly, I have been thinking about this for a while and I want to do what's best for him. I don't want to keep him here knowing he is not thriving in the environment I am providing for him. I love him very much and will not surrender him to a shelter or animal control, because I don't want him to be euthanized. I just want him to find a forever home with someone who will love him as much as I do and can provide an environment where he is happy, healthy, and safe.
Breed Info
Species: Dog
Breed: Boxer lab mix
Age: Adult (1 - 7 years)
Gender: Female
Size: Large
Details
This pet has been declawed.

This pet's shots are update-to-date.

This pet is house broken.

This pet has special needs.

This pet has been spayed/neutered.

This pet likes or gets along with cats.

This pet likes or gets along with dogs.

This pet likes or gets along with kids.
Contact
Name: Breanna Cerullo
Email: breannafaith1225@gmail.com
Phone: 8639448646
Location: Bartow