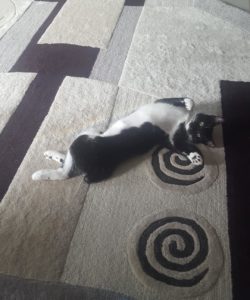 Liddy – Rehoming pet
Description
I am a black and white female tuxedo cat approximately 1 to 2 years old. I am a little girl and only weigh about 8 pounds. I was living behind a gas station under an old abandoned trailer. A homeless man was feeding me we were friends for a while, but they made him leave and find another home. While he was around he noticed I was pregnant and I had 4 kittens. I would go out in front of the gas station and sometimes people would leave food for me. This lady gave me some food and water and we became friends after the homeless man left. She would bring wet food, dry food, and fresh water every morning and evening and leave it in a certain spot. Sometimes I saw her and she would talk to me and pet me. She was so nice and I trusted her. This went on for weeks. One day she took me home with her. I had surgery and was spayed. I went to the vet and got all my tests and shots and a clean bill of health. If you notice from the one before picture if you look close I was missing part of my tail and it would not heal. The vet gave me antibiotics but they didn't help. I ended up having tail dock surgery. I have been through a lot for being so young. My lady friend took good care of me through all of this. She stayed with me at night just like a Mom. I knew she loved me. After I healed from my surgeries she introduced me to her other cat. He is an old 18 year old male who she also rescued 12 years ago. He did not like me at all. I tried to be friends but he just would not accept me. I tried to play with him and he would just scream like I was hurting him. We get into little fights all the time. We both want to be the alpha cat of the house. I am an In and Out cat. I like to go outside and explore and run. I am very affectionate and have toys to play with in the house. I don't like dogs very much. Evidently I don't get along with old cats but MAYBE a young cat would be a good companion and play mate for me.
I love to stretch out. I am a good girl and use the litter box and my scratching posts. I am looking for a Forever home where I will get Lots of Love and Attention, and a place where I can go outside in a safe environment for a couple hours during the day.
P.S. I come with my own feeding dishes, cat tower, scratching posts, litter box, blanket, and toys.
More pictures available upon request.
Breed Info
Species: Cat
Breed: short hair
Age: Adult (1 - 7 years)
Gender: Female
Size: Small
Details
This pet has been declawed.

This pet's shots are update-to-date.

This pet is house broken.

This pet has special needs.

This pet has been spayed/neutered.

This pet likes or gets along with cats.

This pet likes or gets along with dogs.

This pet likes or gets along with kids.
Location Last Seen
My pet.
Contact
Name: Cheryl Erwin
Email: chooter0711@yahoo.com
Phone: 3015020389
Location: POLK CITY