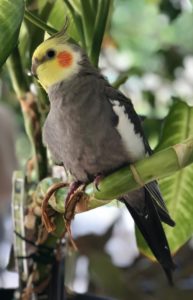 Indy
Description
He is a cockatiel, he has a mostly grey body with a white strip at the end of the wings. He has a yellow face and orange circles on his cheeks. He is a friendly bird with lots of attitude. He may be whistling the Adams Family song, the Mockingjay whistle (from hungergames), or some of his own tunes. He also squeaks like dog toy, and makes robot noises when he hears a phone call. Since he is probably anxious he could be screeching or screaming for attention.
Breed Info
Species: Other
Breed: Cockatiel
Age: Adult (1 - 7 years)
Gender: Male
Size: Small
Location Last Seen
Last seen at the Reserves on Pleasent Hill in Kissimmee.
Contact
Name: Ashley Gonzalez
Email: gonzalez.ash1998@gmail.com
Phone: 8635574967
Location: kissimmee