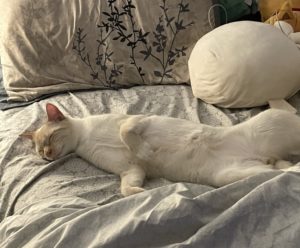 Haru – Rehoming Pet
Description
Hi my name is Haru! I am a little over a year old and I am very friendly and love humans!!
Haru is a Flame point Siamese with mostly cream colored fur with touches of orange/brown. Hary is very playful and would constantly pounce on the other cat in my home. He was smaller and kind of afraid of Haru. I assume that he will do well with a kitten because he is able to be more dominant and more of a guidance to the new kitten, rather than having to "fit in" into the new home (marking territory, finding his favorite spots, etc).
Extra notes:
>Haru is extremely playful and has a nibbling/biting problem. He has not grown out of it, so please be careful when playing with him. He has never bitten, only nibbled, but cat teeth are sharp so it does hurt.
>Haru's nails (although attempted to maintain) are very sharp, please trim them weekly if possible. They grow very quickly.
>Haru gets bored of his toys quickly and tends to lose them. But he does love to play with anything and everything!.
>Haru does NOT like to be alone too often, he is extremely needy and loves the company of another human. You don't have to pet him 24/7, however just be in the same area as him.
Breed Info
Species: Cat
Breed: Flame Point Siamese
Age: Adult (1 - 7 years)
Gender: Male
Size: Medium
Details
This pet has been declawed.

This pet's shots are update-to-date.

This pet is house broken.

This pet has special needs.

This pet has been spayed/neutered.

This pet likes or gets along with cats.

This pet likes or gets along with dogs.

This pet likes or gets along with kids.
Location Last Seen
He is currently staying with my friend since my boyfriend's aunt is allergic to cats.
Contact
Name: Dana York
Email: ymdana3@gmail.com
Phone: 9048870108
Location: Kissimmee