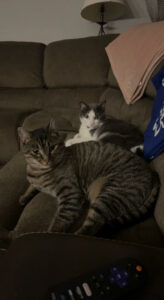 Everest and Theodore – Rehoming pets
Description
Everest (2 years) is shy at first, but a very sweet cat. He is fiercely loyal to the human he chooses is going to be "his." He tends to hide when there are new people in your home who he does not know, but is not aggressive towards them in any way. Everest enjoys pets when he is in the mood for them and will occasionally cuddle with you. He does struggle with a urinary issues and therefore is on the Royal Canin Urinary SO + Calm food, he does have a prescription.
Theodore (Teddy, Theo) (1 year) is a playful and sweet cat. He enjoys hanging out wherever there is company and loves to be pet. He still has his kitten ways where when you are petting him he decides to playfully bite, but never aggressively. He will not run and hide when any new company comes over, however, he is shy towards new people at first. We like to call him our little "tie-dye baby" as he has both the qualities of a cat and a dog.
They are both comfortable with other cats, dogs, or humans of any age. They both eat the Urinary SO + Calm food, one scoop of dry food each in the morning and half a can of wet food each at night. Neither cat is very vocal, but when they are hungry they will follow you around until you feed them. They both love to go outside and sit by windows, so if you have a screened-in porch they will endlessly love you. They will come with three cat scratchers (two small, one large), toys, the food we have at the time, their food bowls, a litter box, any litter we have at the time, and a box that was built to house their litter box.
I would love to keep them, but unfortunately, I am moving to a different state for Graduate school and will be unable to. I would love to keep them together as they have been together for so long and love each other.
Breed Info
Species: Cat
Breed: Short-haired domestic
Age: Adult (1 - 7 years)
Gender: Male
Size: Small
Details
This pet has been declawed.

This pet's shots are update-to-date.

This pet is house broken.

This pet has special needs.

This pet has been spayed/neutered.

This pet likes or gets along with cats.

This pet likes or gets along with dogs.

This pet likes or gets along with kids.
Contact
Name: Carrie Wilkey
Email: carriemadison96@gmail.com
Phone: 863-280-5643
Location: Davenport