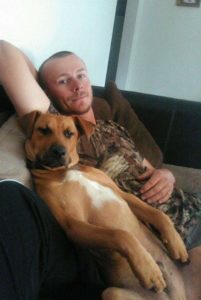 Duke – Rehoming Pet
Description
Duke is a mid-sized mixed breed dog. We think he may have some Cur in him. He has had a rough past and was almost killed by another dog. We took him in but unfortunately due to his past he does not get along with other Male dogs he did fine with my moms female dog though. He is also skittish around people. He has to get to know you first as he is protective of the people he loves. But once he gets to know you he just wants to cuddle, be next to you whenever he can, play, and have all the attention. He is good with out 9 year old daughter. He is up to date on his shots. He is not neutered but we are trying to find somewhere with reasonable pricing to get it done. Unfortunately we can not give him the time and attention he needs as we work full time jobs and my daughter does barrel racing so we aren't there on most weekends and we aren't there 2-3 nights of the week. He deserves more love and attention than what we can give him. He would be someone's very best friend without a doubt.
Breed Info
Species: Dog
Breed: Mixed
Age: Adult (1 - 7 years)
Gender: Male
Size: Medium
Details
This pet has been declawed.

This pet's shots are update-to-date.

This pet is house broken.

This pet has special needs.

This pet has been spayed/neutered.

This pet likes or gets along with cats.

This pet likes or gets along with dogs.

This pet likes or gets along with kids.
Contact
Name: Amber Waddle
Email: Lwbabygrl17@gmail.com
Phone: 8632410732
Location: Lake Wales