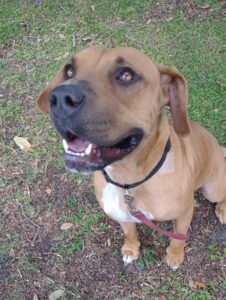 Daisy Doodles – Rehoming Pet
Description
Almost 2 years old black mouth curr mix puppy. She has been through a lot and has problems. She needs someone who has experience with helping a scared dog. She was attacked by 3 pit bulls this past year and almost died. After her surgery and recovery she has developed a fear of most things. The only thing she appears to not be afraid of is me, but things are not going well because I am married and also have a 2nd dog and I cannot devote all of the time this dog needs. She is spayed and up to date of on all of her shots. I can't describe her personality because to me, she acts incredibly affectionate and wants to be near me at all time. But she dislikes my husband, is rough with my senior dog, and if I'm not at her side she is snappy and skittish around other people, even my mother. She needs a happy life that I'm unable to give her. She needs someone who would have the patience to break through to her and love her. Please if you're this person, consider taking this dog on as a love project, I know it will be difficult, but I almost envy the person who will be able to break through and feel the love this dog will give. If you do not have experience with a troubled dog, please don't get our hopes up. This is one of the most painful things I've had to go through watching and knowing that this poor dog just needs someone really special to love and care for her. It's not her fault that life was so hard. I wish I was able to do it, but my circumstances stop me from having the freedoms and the money, time and expertise needed to accomplish happiness for little Doodles.
Additional details. Daisy is an outside dog. She sleeps in a large crate at night but spends the days outside in the dog lot with out other dog. She has never stayed inside, but she does not mess in her crate or on the porch, so I feel confident that she is house trained. She's only ever been around me, my husband, my mother and the people at the vets offices.
She has her shots but I didn't send in for the tag. I have the paperwork here but no tag #. She weighs about 60 lbs. She not large but she is heavy. She is orange with black around her eyes and mouth and white on her paws and chest.
Breed Info
Species: Dog
Breed: Black Mouth Curr Mix
Age: Adult (1 - 7 years)
Gender: Female
Size: Medium
Details
This pet has been declawed.

This pet's shots are update-to-date.

This pet is house broken.

This pet has special needs.

This pet has been spayed/neutered.

This pet likes or gets along with cats.

This pet likes or gets along with dogs.

This pet likes or gets along with kids.
Location Last Seen
I'm not sure what this section means. I think it's asking about what vet maybe? The last vet visit was with Dr. Bob Irelan's Veterinary Services for an allergic reaction. Prior to that was with Marcum Road Animal Hospital for follow up care after her attack, and her spay procedure as well as shots.
Contact
Name: Madeline Nupp
Email: maddy@chibitude.com
Phone: 863-255-5608
Location: Lakeland