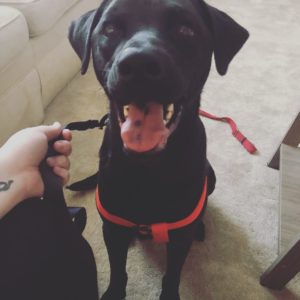 Chewbarca "Chewy"- Rehoming Pet
Description
Chewy is a black lab mix who has tons of energy and needs a family with kids and a yard! My husband and I just found out we are expecting our first baby, took on more responsibility at work, and are living in an apartment that isn't giving him the space to run that he needs. As heartbroken as we are at the thought of giving him up, we would be even more heartbroken at the thought of him not living the best life he can with a family who loves him.
He still has the energy of a puppy, but with the benefit of being house and crate trained due to being older. He knows simple commands like "Sit," "stay," "go to your crate," and "roll over." Being a lab, he is very gentle-natured.
I say he's "medium" sized because he is a lab, but he's mixed with something else that seems to be a smaller breed. He's much smaller than the average sized lab, and I don't foresee him getting any bigger since he's already about a year and a half old.
He's never been around cats, but he has been around dogs and kids, and does good with both.
Again, we are so heartbroken to be getting rid of him, so we will be picky about who he goes to. We're confident that the right family will gain an amazing and loyal addition to their crew!
Breed Info
Species: Dog
Breed: Black Lab Mix
Age: Young (6 months - 1 year)
Gender: Male
Size: Medium
Details
This pet has been declawed.

This pet's shots are update-to-date.

This pet is house broken.

This pet has special needs.

This pet has been spayed/neutered.

This pet likes or gets along with cats.

This pet likes or gets along with dogs.

This pet likes or gets along with kids.
Contact
Name: Kaylin Fowler
Email: kaylinglass13@gmail.com
Phone: 8635129230
Location: Lakeland