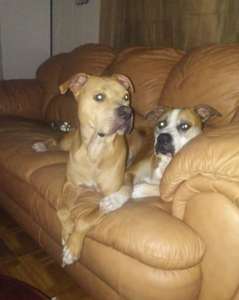 Chance – Rehoming Pet
Description
He is a male, pitbull mix and he is 3 yrs old. He is extremely affectionate and loving. He loves to play, give kisses and cuddle. He is a loving dog. He is an Alpha male and does get along with other dogs. However, if another dog is not neutured and they "hump" him he doesn't like that. He will, without being aggressive let the other dog know not to do that. He cannot be in a home with cats.
Breed Info
Species: Dog
Breed: Pitbull Mix
Age: Adult (1 - 7 years)
Gender: Male
Size: Large
Location Last Seen
Shots are not up-to-date. He is house broken. He has been sprayed/neutered and is MicroChipped. He does not get along with cats. He does get along with other dogs, people and children.
Contact
Name: Laurie Vachet
Email: newyork4life629@gmail.com
Phone: 3464594594
Location: Lakeland