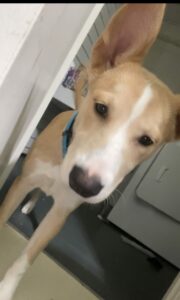 Cassie – Rehoming pet
Description
Meet Cassie! Cassie is a 5 month old, beige and white mixed breed puppy. She's comfortable around men, women, and children and isn't shy at all! Cassie is okay being around other cats and dogs. She enjoys playing with balls, chew toys, sticks and stuffed animals and loves to be outside. Her favorite game is Tug of war. Cassie is very energetic and full of kisses, she'll also talk to you! She loves to snuggle up at the foot of the bed, and she loves being held so she'll definitely curl up on your lap. Cassie is known to bite playfully, and she doesn't like the idea of being in a crate. Cassie knows how to sit and come when she's called. Cassie does occasionally pee and poop in the house, you just have to make sure you take her out before you leave. With proper training Cassie will make the perfect family dog!
Breed Info
Species: Dog
Breed: Husky Lab Mix
Age: Baby (0 - 5 months)
Gender: Female
Size: Medium
Details
This pet has been declawed.

This pet's shots are update-to-date.

This pet is house broken.

This pet has special needs.

This pet has been spayed/neutered.

This pet likes or gets along with cats.

This pet likes or gets along with dogs.

This pet likes or gets along with kids.
Contact
Name: Addison Kirby
Email: addiek46@gmail.com
Phone: 8632057428
Location: Lakeland