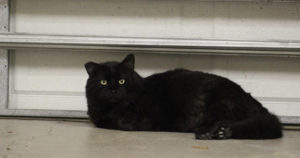 Buttons
Description
My big fat feral boy "Buttons" that I care for has gone missing. I always close him in garage at night for his safety, the night before he didn't come in and I haven't seen him since. He has long black fur (with some orange-ing from being in the sun), and he is TNRd and has an ear tip on his right instead of left ear. He's always hanging around being lazy at my house ever since he was fixed last year, so this isn't like him to not show up. Lakeland off Carter Rd. Millbrook Oaks area. I hope no one has trapped him. His mom is a semi-feral and he is full feral. She has been calling for him and it's sad, cause I can tell she is worried.
Breed Info
Species: Cat
Breed: Domestic Longhair
Age: Adult (1 - 7 years)
Gender: Male
Size: Extra Large
Details
This pet has been declawed.

This pet's shots are update-to-date.

This pet is house broken.

This pet has special needs.

This pet has been spayed/neutered.

This pet likes or gets along with cats.

This pet likes or gets along with dogs.

This pet likes or gets along with kids.
Location Last Seen
Millbrook Oaks Dr Neighborhood, off W Carter Road in Lakeland.
Contact
Name: Hannah Westfall
Email: hannah.elizabeth17@yahoo.com
Phone: 8633987706
Location: Lakeland