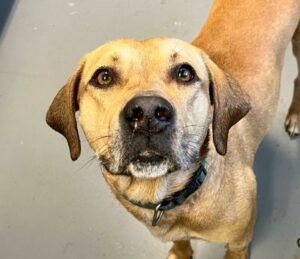 Bruno – Stray Pets in the Shelter
Description
Bruno is a tan male Rhodesian Ridgeback and American Bulldog mix. He is approximately 2 years old. Bruno was found tied to a pole in our parking lot on 3/7/2023. He is a sweet, quiet dog who is a little shy at first. Bruno likes to be brushed and petted. He is an affectionate dog who just likes just to be with you. As we learn more about him we will update his profile. For more information on how to adopt, please call the shelter to see if this pet is still available for adoption. Then come to the shelter for a meet and greet. We are open 10:30-6 Tuesday – Saturday (closed 1-2 for lunch and the last Friday of every month).
Breed Info
Species: Dog
Breed: Mix
Age: Adult (2 years)
Gender: Male
Size: Large
Location Last Seen
Found on Humane Society Parking lot.
Contact
Name: Humane Society of Polk County
Email: Admin@humanesocietyofpolkcounty.org
Phone: 8633245227
Location: Winter Haven