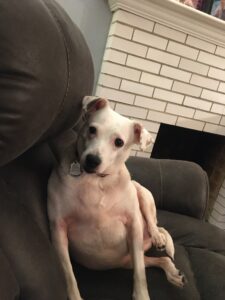 BooBoo – Rehoming Pet
Description
I've had BooBoo for almost five years. I adopted her from Carroll County Humane Society in McKenzie, TN, where she had been for 2+ years. She's part Jack Russell and I believe part Feist and around nine years old. . There was a history of neglect and severe abuse prior to her time there. She is very quiet and has no real dog personality. Doesn't really like to go for walks or go outside. She stays in her kennel all day even though she's free to come and go because she feels safe there. She's a little overweight, about 35 lbs. she's fine around cats and other dogs and has never shown any aggression until now. I recently moved to Florida to be with my daughter, son in law and grandson. She has lunged a couple times at my 19 month old grandson without provocation, no sudden movements, loud noises, poking or touching. Since my grandson will be around 100% of the time, I'm unwilling to take any chances with her. I believe she'd be best suited in a home without young children or toddlers. Can you help?
Breed Info
Species: Dog
Breed: Part Jack Russell
Age: Senior (7+ years)
Gender: Female
Size: Medium
Details
This pet has been declawed.

This pet's shots are update-to-date.

This pet is house broken.

This pet has special needs.

This pet has been spayed/neutered.

This pet likes or gets along with cats.

This pet likes or gets along with dogs.

This pet likes or gets along with kids.
Location Last Seen
Lakeland
Contact
Name: Steve Nawrocki
Email: s.nawrocki1960@gmail.com
Phone: 8153021573
Location: Lakeland