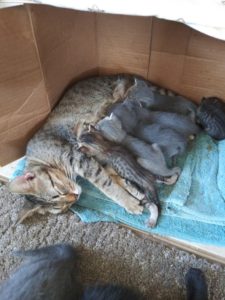 5 kittens – Rehoming Pet
Description
I took in 2 female cats not knowing each was pregnant. Their owners were evicted from a motel for failure to pay rent. The owner of the Grove Motel, Lake Wakes "Dawn" has been letting these abandoned pets loose. I have since moved from there and have 5 six week old kittens, all weened and litter box trained. I now also have 6 three week old babies and am completely overwhelmed. I rely on a monthly disability check that has been feeding these kittens. Have had 2 bottle feed the first 5 and judging by the size of the second litter, will have to do the same. I desperately need help!!! Not only with placing the kittens, but for the spaying and neutering of the adults. These kittens would make wonderful pets. They are completely socialized and love people. They are beautiful. I am able to handle the 2 adult females if they are spayed. I know with the virus concerns, pets are not priority. We live in a one bedroom apt and space is tight. Please give me any help you can otherwise I'm not sure what my options will be. My name is Suzette. I live at 3706 n scenic hwy, Lake wakes Florida. My phone number is 8632236961. Thank you so much.
Breed Info
Species: Cat
Breed: American short hair
Age: Baby (0 - 5 months)
Gender: Female
Size: Small
Details
This pet has been declawed.

This pet's shots are update-to-date.

This pet is house broken.

This pet has special needs.

This pet has been spayed/neutered.

This pet likes or gets along with cats.

This pet likes or gets along with dogs.

This pet likes or gets along with kids.
Location Last Seen
Kittens live at my home
Contact
Name: Suzette Guglielmo
Email: flowerpowerdaze2525@gnail.com
Phone: 8632236961
Location: Lake wales