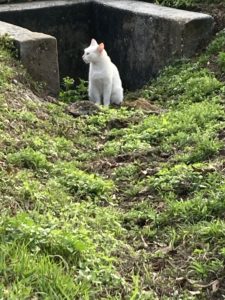 ?
Description
It's been friendly with the neighbor's daughter but gets very skittish when I approach it. The picture was taken from ten feet away and zoomed in, since that was as close as it would let me get. If it feels threatened it seems to crouch down and then run while looking you directly in the eyes. Can't tell a gender
Breed Info
Species: Cat
Breed:
Age: Young (6 months - 1 year)
Gender: Male
Size: Medium
Location Last Seen
At the house across Davin Street from 205 W Carter Rd living in drainage ditch. Comes out at dusk and early morning.
Contact
Name: Jesse Herring
Email: jherring7@hotmail.com
Phone: 8638121268
Location: Lakeland